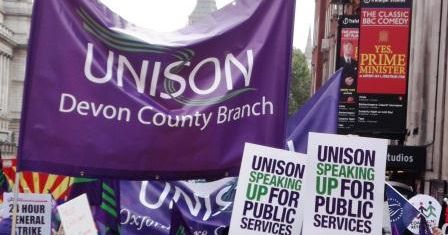 Tel: 01392 382530

Matford Offices
County Hall
Topsham Rd
Exeter
EX2 4QX
News
UNISON will continue to campaign for more funds for local government, allowing employers to improve their final pay offer for council and school staff in England, Wales and Northern Ireland.
Although employers have said that their offer of a 2.75% increase is final, they have also said that they will approach the government for more money for local government pay for 2020-21.
Pay outside Scotland is negotiated through the national joint council for local government services, and the union says it is not in a position to consult members on the offer until the government's response is known
.
UNISON NJC committee statement on pay negotiations
"UNISON's NJC committee, which oversees the NJC pay negotiations and campaign on behalf of our local government and schools members for England, Cymru/Wales and Northern Ireland, met on Friday to consider the local government employers' pay offer of 2.75%, an increase of one day on the minimum level of annual leave, and future discussions on stress and the minimum wage.
"The committee was clear that, while the employers have said this is their final offer, key matters remain unresolved. As part of their offer, the employers said they would approach central government for more money for local government pay 2020-21.
"The unions have asked for more detail on what the employers plan to ask for, and that this is on a joint employer-union basis.
"Until we know central government's response to the approach, we are not yet in a position to consult our members for their views on the pay offer.
"We are writing to the Local Government Association, the Welsh Local Government Association and the Northern Ireland Local Government Association, who are responsible for making the approach to government for more money, making our position clear.
"Until we know what extra money will be available, we have not exhausted the negotiation process.
"As key workers, local government and school staff are in the forefront of the battle against COVID-19. So they deserve proper recognition and reward. UNISON will continue to campaign hard for these workers and we urge the government to provide increased funding to allow local government to give all workers a decent pay rise."
Local government pay – UNISON statement
To access the Job Retention Scheme employers need to designate affected employees as 'furloughed workers,' and notify their employees of this change.

Furloughed workers are unable to work because their workplace has been forced to close due to the coronavirus.

if you are furloughed, this will change the status of your employment relationship – your contract. This change in employment status remains subject to existing employment law and, depending on your employment contract, may be subject to negotiation.

Who decides whether someone is furloughed?
An Employer decides who is to be furloughed. In choosing staff to be furloughed, Employers will have to consider discrimination laws and the implied duty of 'mutual trust and confidence'. Employers are likely to seek volunteers.

As this will require a variation of an Employee's contract, an Employee's consent is required before they go on furlough.

Can I work while on furlough?
No, you cannot work and you cannot provide services or generate income.

Who can be furloughed?
Subject to some conditions and exceptions, employees and workers can now be furloughed if on PAYE at 19 March 2020. Previously, the key date was 28 February 2020.

The scheme applies to employees on an organisation's payroll at 19 March that are any of the following:

full-time employees,
part-time employees,
employees on agency contracts
employees on flexible or zero-hour contracts.
employees who were made redundant since 28 February 2020, if they are rehired by their employer.
What if I have caring responsibilities?
Employees who are unable to work because they have caring responsibilities resulting from coronavirus can be furloughed. For example, employees that need to look after children.

What if I am shielding for health reasons?
If an employee is not on sick pay but instead is shielding for health reasons they will be eligible for furlough pay.

What is the minimum period for furlough?
The minimum period is three weeks.

Can my employer rotate staff on and off furlough?
Yes, employees can be rotated – three weeks on furlough and the working three weeks.

What pay will I receive?
Full-time or part-time employees will be paid 80% of their actual salary (as at 28 February 2020), up to a maximum of £2,500 per month. The wages covered do not include fees, commission and bonuses.

What if my pay varies month to month?
For employees whose pay varies and have been employed for 12 months prior to the claim, an employer can claim and pay the employee the higher of:

a) the same month's earning from the previous year;

or b) the average monthly earnings from the 2019-20 tax year.

For employees whose pay varies but they have been employed for less than a year, the claim should cover the average monthly earnings since they started work.

Can my employer pay me below the National Minimum Wage if I am 'furloughed'?
The government has stated employees on the National Minimum Wage (NMW) can be paid less than this usual legal minimum. They say that the NMW does not apply to furloughed employees. However, if employees are required to engage in training activity, such as completion of an online training courses, whilst they are furloughed, they must be paid at least the NMW for the time spent training.

Am I entitled to Holiday Pay whilst furloughed

Workers who have been placed on furlough continue to accrue statutory holiday entitlements, and any additional holiday provided for under their employment contract. Use the government holiday entitlement calculator to calculate a worker's statutory holiday entitlement. Please follow the link below for more detailed advice
https://www.gov.uk/guidance/holiday-entitlement-and-pay-during-coronavirus-covid-19

Will my furlough wages be subject to income tax and deductions?
Yes

Will my employer still make National Insurance and minimum automatic enrolment pension contributions?
Employers remain liable for associated Employer National Insurance contributions and minimum automatic enrolment Employer pension contributions on behalf of furloughed employees and can claim for these costs from the Government in addition to the wage.

What if I have more than one job?
Employees with more than one job can be furloughed for each job. Each job is separate, and the cap applies to each employer individually.

Can I do volunteer work/training if I am furloughed?
Yes, so long as the volunteer work/training does not provide services to or generate revenue for, or your Employer.

If you complete online training courses while you are furloughed, you must be paid at least the full
 National Living Wage (NLW)/National Minimum Wage (NMW) for the time spent training, even if this is more than the 80
% of your wage that will be subsidised.
Furlough and Job Retention Scheme Q&A
Responding to new Department for Education (DFE) guidance on the reopening of primary schools and nurseries and to meetings held today (Friday) between unions, officials and government scientists on the risk of Coronavirus transmission by children, UNISON head of education Jon Richards said:

"Safety for staff and pupils has to be the number one priority. Yet the DFE guidance has a number of holes, and the government has neither met unions' safety tests nor its own. That's why the beginning of June for reopening is unrealistic.

"The guidance encourages schools to use support staff to fill gaps if teachers aren't there. While more senior teaching assistants can do this, there's a danger that others could be exploited.

"The meetings today (Friday) with scientists and officials were useful. But questions remain around the capacity for schools to be able to fully test, trace and isolate children and school staff.

"Many support staff come from backgrounds that put them at greater risk if they're infected with Covid-19. Workers including teaching assistants, cleaners and school meals staff mustn't be put in danger just because the government is in a hurry to get schools running again."
Latest Statement on Schools