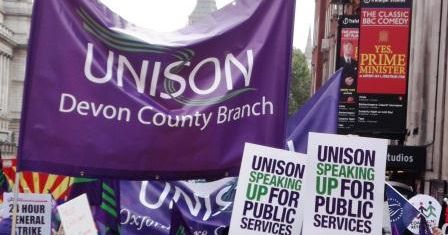 Tel: 01392 382530

Matford Offices
County Hall
Topsham Rd
Exeter
EX2 4QX
Responding to new Department for Education (DFE) guidance on the reopening of primary schools and nurseries and to meetings held today (Friday) between unions, officials and government scientists on the risk of Coronavirus transmission by children, UNISON head of education Jon Richards said:

"Safety for staff and pupils has to be the number one priority. Yet the DFE guidance has a number of holes, and the government has neither met unions' safety tests nor its own. That's why the beginning of June for reopening is unrealistic.

"The guidance encourages schools to use support staff to fill gaps if teachers aren't there. While more senior teaching assistants can do this, there's a danger that others could be exploited.

"The meetings today (Friday) with scientists and officials were useful. But questions remain around the capacity for schools to be able to fully test, trace and isolate children and school staff.

"Many support staff come from backgrounds that put them at greater risk if they're infected with Covid-19. Workers including teaching assistants, cleaners and school meals staff mustn't be put in danger just because the government is in a hurry to get schools running again."
Latest Statement on Schools
UNISON's National Schools Committee met on Thursday 14 May and agreed that the union should continue to oppose the government's unsafe proposal to increase pupil numbers from 1 June. The Committee was a little encouraged to hear that at a meeting earlier that day, Department for Education (DfE) officials were keen to stress that the 1 June date was 'aspirational' and that the guidance being provided was 'non-statutory'.

Nonetheless the Committee expressed strong concerns around the following issues:

•Virus transmission – failure of the government to provide clear evidence around the transmission risk from pupils and staff.
•Social distancing – the impossibility of maintaining social distancing in schools and nurseries because of the year groups chosen to go back first, and the significant increase in numbers this would bring in some schools. The government recognises this yet is still moving on regardless.
•PPE – the government's guidance to schools on PPE is wholly insufficient.
•Testing, tracing and isolation – failure of the government to roll out a comprehensive strategy before any increase in pupil numbers.
•Travel – increased risks posed by pupils and staff travelling on public transport and when parents drop off or collect their children.
•Redeployment - concerns that DfE guidance will be interpreted to mean that schools can deploy support staff to do jobs they are not qualified to perform, protected to do or paid to undertake. Examples include using support staff other than cleaners to undertake cleaning duties and teaching assistants to take classes where they are not qualified or paid to do so. Schools must ensure that support staff are not required to routinely cover for teacher absence or lead classes. UNISON will not support any use of staff to support teaching in an inappropriate or non-agreed way.

•Cleaning - Schools and nurseries will need clear plans about how they will enable the additional cleaning required by government guidance. Additional staff and cleaning materials will be required before settings will be safe to open. Staff undertaking additional cleaning must be paid for these extra hours, including overtime premiums where appropriate.

•Early years – The government has acknowledged that it is not possible to apply social distancing among these children and unless adequate precautions are in place, staff and children in these setting will be placed at risk. UNISON believes that all nurseries must undertake risk assessments and have adequate measures in place to ensure safe re-opening before 1 June.
It was agreed that UNISON would continue to work with the other TUC education unions to protect pupils and staff by continuing to campaign for schools and nurseries to only open when proved safe to do so. Furthermore
, your branch has begun to work with the
Local Authority and Academies on the understanding that 1 June is not possible and that more time is needed.


Our immediate advice to you

We are aware that some employers are pressuring our members to start the planning process. We have attached a model letter which you and your colleagues can send to your head teacher and Chair of Governors. The letter includes the following statement which you can use in responding to your employer if they are pressing you to start planning for the return of students on 1 June:

"I understand that the school has a duty to plan and my issue is not with the school rather with the government rushing ahead with an unsafe increase in pupil numbers from 1 June. Therefore I would like it to be formally noted that my involvement in any meetings and discussions will be on the basis of a sharing of information only, and not my agreement to an unsafe reopening from 1 June. I would further request that you enter into collective discussion with my union on the measures that need to be taken for a safe increase in pupil numbers, as stated by the DfE. I call on the school not to put pupils and staff at risk by an unsafe increase in numbers from 1 June."

Your UNISON branch will be contacting your employer shortly to ensure that we are fully involved in the plans to reopen the school. Please contact your branch on (insert branch email address here) to let us know what is happening in your workplace.

Support for members

We recognise that this continues to be a very difficult and worrying time for you and your family. UNISON's welfare charity There For You has has set up a special fund to respond to calls for help needed especially because of the pandemic, with £250,000 set aside to help members. More information is available here https://www.unison.org
.uk/get-help/services-support/there-for-you/financial-
assistance/ or contact your branch welfare officer.

Make sure you have all the latest information - Check our website at https://www.unison.org.uk/at-work/education-services/ and follow us on Facebook at https://www.facebook.com/UNISONinSchools/

If you need advice on any COVID - 19 related issue you can email UNISON South West on UNISON@help-hub.co.uk and you will be put in contact with an organiser.

Thank you again for all you are doing.

Other News